A translation from the Hebrew by Calvin Seerveld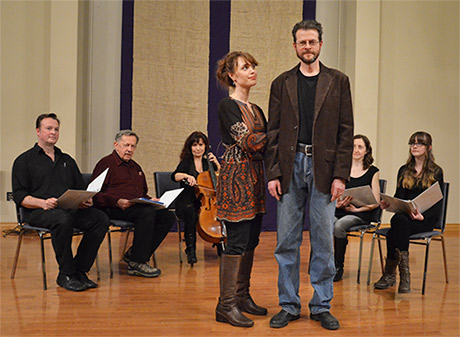 This hour-long presentation is a unique combination of music, reading and performance. The audience is guided through the full text of this surprisingly relevant Biblical book. This dramatic piece is a moving, emotional and challenging exploration of all human endeavour under the sun.
Featuring Raymond Louter - Directed by Tom Carson
Calvin Seerveld has taught philosophical aesthetics at the Institute for Christian Studies and is the author of Take Hold of God and Pull, Rainbows for the Fallen World, The Greatest Song and Voicing God's Psalms.
2014 Dates and Locations:
Sunday, March 16, 8:00 pm
Tyndale University College and Seminary, Chapel
25 Ballyconnor Drive, Toronto
For information: tyndale.ca
Sunday, April 6, 6:00pm
Meadowlands Fellowship Christian Reformed Church
211 Stonehenge Drive, Ancaster
Information: 905-304-4219, meadowlandsfellowship.com

Saturday, April 12, 7:00 pm
Rehoboth Fellowship Christian Reformed Church
800 Burnhamthorpe Road, Toronto
For information: 416-622-9647
Sunday, April 13, 6:30pm
Willowdale Christian Reformed Church
70 Hilda Avenue, Toronto
For information: 416-221-7829, willowdalecrc.com
Thursday, April 17, 8:00pm
Crossfire Assembly
458 King West (between Pearl and Locke), Hamilton
For information: 905-525-8894, crossfireassembly.org

with Raymond Louter and Clarissa DerNederlanden-Taylor